Today having special needs is no longer a barrier to travel and fun. The hospitality industry has stepped up to the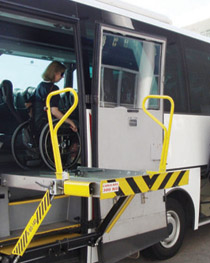 challenge of helping folks with all varieties of special needs to enjoy the pleasures of travel.
The best way to start is to PLAN AHEAD. Planning ahead assures that you will have all of your needs dealt with and there will be no surprises.
Cruise ships are being constructed to make it easier
to move around and enjoy
the cabins. Handicapped accessible cabins are now in great supply and reasonably priced.
Airlines will accommodate many needs and issues that arise. Personnel are trained to help special needs travelers as quickly and efficiently as possible.
Make sure everyone knows what your needs are and ASK FOR HELP. Employees are not mind readers. They have to know that you need help if they are going to help you.
Below are some tips that you can use on your next trip with Mainly Special Needs Travel.
Travel Tips From Mainly Special Needs Travel
Do not put your upcoming trip information on Facebook, Linkedin or any other social network as it may alert potential burglars
Make a list of all your needs and go over all of them with your travel professional. Take extra prescriptions for all essential medications. Also take a letter from your doctor explaining why you need them.
Copy all your travel documents and leave a set at home, and a set with a contact person and one set in your luggage. Put emergency contact information in your suitcase so someone can find it in the event you are unable to retrieve it.
If you use any electrical equipment, such as scooters or breathing equipment, check the requirements for electronic equipment for where you are going.

If you need assistance boarding the plane, be sure to tell your travel professional or airline that you will need an aisle chair and assistance to get to your seat.
If you are on the phone or in the airport and are having difficulty with explaining your travel needs, do not get angry or frustrated – simply ask for the Complaint Resolution Office. They are trained to solve travel issues.
Remember, that a scooter or wheelchair can go up to the aircraft. Then you must dismantle it to be put in the cargo hold. Ask if you need assistance.
When flying with a wheelchair, remove your wheelchair cushion before the airline puts the wheelchair in the cargo hold for the flight and take it with you to your seat. Airline personnel are human beings, so set your scooter or wheelchair at minimum speed so the airline personnel cannot play with it. Full speed is too tempting. Write instructions and tie them to the wheelchair so that when it is dismantled they do not ruin it. Make sure the instructions will not rip off or tear.
Equipment, such as portable hoyer lifts, dialysis equipment, oxygen equipment, can be rented at your destination if planned ahead. If you are traveling with children, the special support seat for children with harness is allowed.
If you are taking oxygen on board an aircraft, check with the airline for the make and model number of the oxygen concentrator that is allowed. Airlines do not supply oxygen. Make arrangements for your supply at the airport ahead of time.
If the bed is too high, have the hotel remove the frame from the bed to lower it.
If the entrance to the handicapped bathroom is too narrow, have the hotel take the door off its hinges and remove it. If there is too much furniture in the room ask the hotel to remove some of it for easier maneuverability.